Samvaad has expertise in producing quality television content for the media and entertainment industry.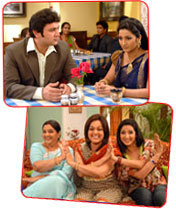 The company has a strong creative team, capable of generating high volumes of quality content within a short period. Samvaad's team has proved itself by making programmes of such excellence that they have received tremendous response from the audiences. Samvaad has a large number of tried and tested Videographers, Editors, Sound Engineers and other technicians thus the company is able to consistently maintain high standards to convert the creative content into quality programming. Samvaad has robust teams handling production, finance, marketing and back-office aspects of the operations.
Samvaad has the experience of having executed entire production for third party producers. Its first project 'Grihadaah' executed for 'Magic Moments Media Pvt. Ltd.' running on DD's National Network has been extremely well received by the channel and the audiences alike. 'Umrao Jaan Ada' a classic to be soon added to the list. Samvaad is also handling the production of the extremely successful sitcom 'Kabhi Saas Kabhi Bahu' being produced by 'Mainframe Entertainment Pvt. Ltd.' which is telecast on National Network, every Wednesday at 9.00 p.m.